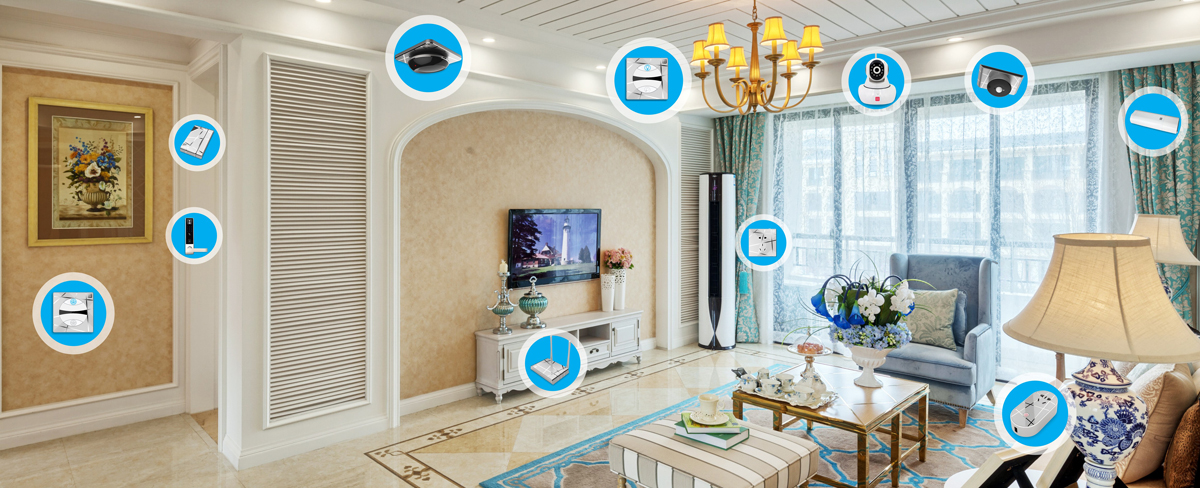 Product introduction
Scenairo 1: Living Room
Products content: Gateway, Switches, Door sensor, Camera, Plug, Curtain motor, Locks, Smoke detector, Scene switches, Socket, Remotes…
Functions:
1. Auto Curtain Control: Open/closed Curtain via APP, Open/Closed Curtain via Scene switch or remotes
2. Auto AC/TV control: Turn on/off the AC/TV via APP, Scene switches or remotes
3. Smart Locks control: Open/closed the door via APP, fingerprint, Card or Passcode, manage the door logs.
4. Home Surveillance Control: monitor your house 7*24 hours in real time and playback anytime
5. Smoke detector: Montior your house 7*24 hours in real time, push notification to you if there have any fire accident.
What can i do more about my home automation kits?
Well, it's depend on your imagination. You can set trigger conditions via APP to active another devices, for example, if you turn on the TV, then the curtain will be turned off automatically; If curtain had been turned off, then the lights will be turned on; If the lights turned on, then the AC will be turned on….Now, you can tell me your design.