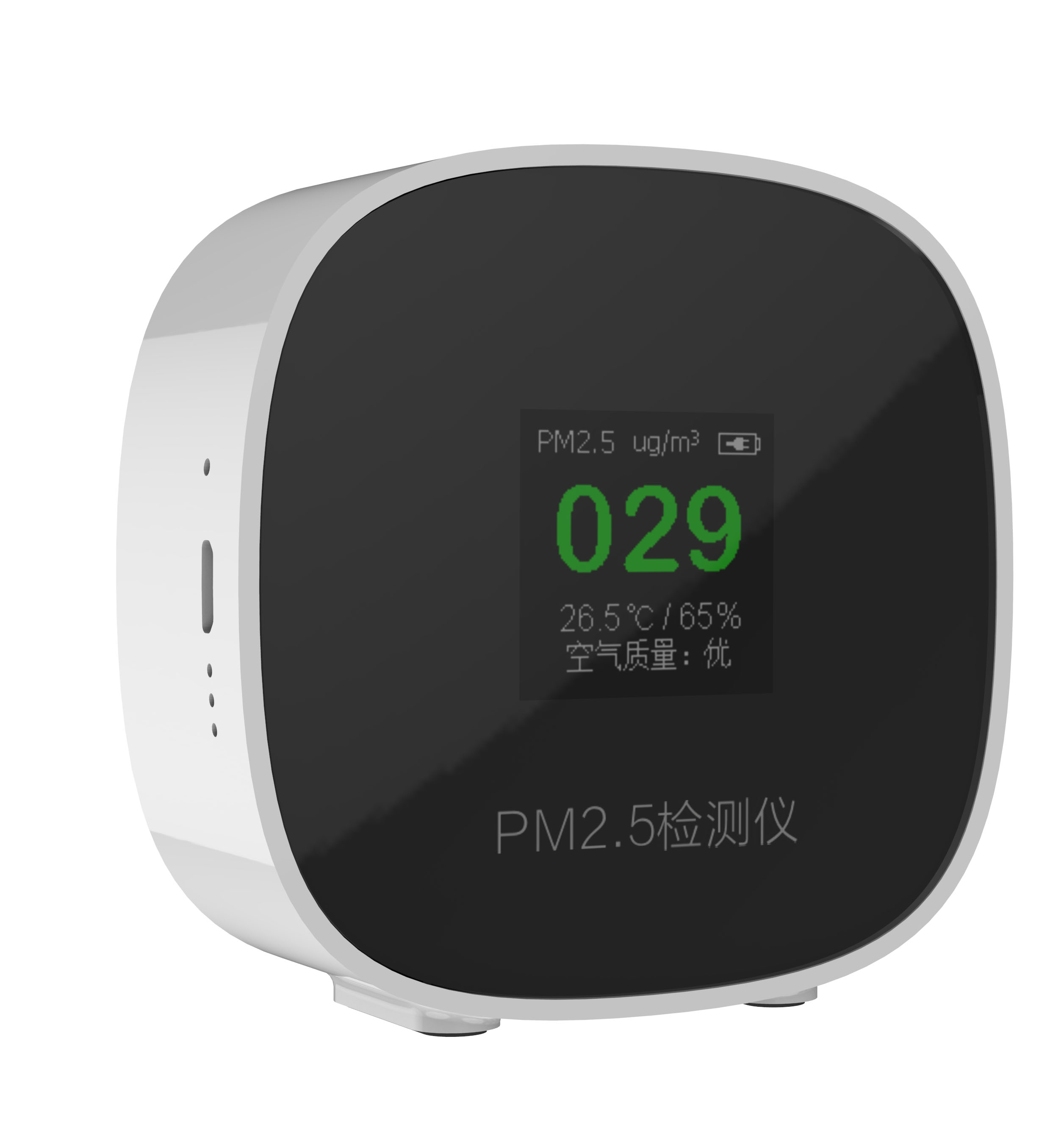 Product introduction
1.?Product Specification
PM2.5 refers to atmospheric particulate matter (PM) that has?a diameter less than 2.5 micrometers. It?is the air quality index around the world. There are more and more people paying attention to the air quality and healthcare. The smart PM2.5 detector?is a smart device with a built-in ZigBee module. The detector is to detect and display?the PM2.5 value. Users can monitor the value on their smart phones or tables in real time. The application is available on both iOS and Android?platforms. To protect your family, you can connect the detector to air purifier which will be activated?when the PM2.5 value reaches the threshold.
1. 1 Features
Support standard protocol IEEE802.15.4.
Support the scene that the air purifier will be activated when the PM2.5 value reaches threshold.
Sparx Smart application can be installed on a phone or a tablet to monitor the PM2.5 value in real time.
2. Application
The PM2.5 detector?can be applied at home?and?office for the purposes of lighting control.
3. Product Standard
Comply with the standard system of smart home.
4. Certification
Comply?with 3C/FCC/CE/RoHS certification.
5. Product Parameters
5.1 Appearance Specification
| | |
| --- | --- |
| Appearance | Parameters |
| Size | 70?x 70?x 31?mm |
| Color | Silver |
| Weight | 132?g |
5.2 Hardware specification
Item
Hardware Specifications
Chipset
CC2530F256
Button
Press the button to monitor the PM2.5 value
Indicator
On: PM2.5 value is being monitored.

Off: Standby

Monitoring object
1)?Atmospheric particulate matter, industrial dust

2)?Measuring range of PM2.5: 5-4000ug/m3

3)?Concentration?of PM2.5: 15%

Power input
DC 5V adaptor, built-in rechargeable?lithium-ion battery

Micro USB

Working frequency
2.4 GHz
Testing method
Intake air
Testing accuracy of PM2.5
15%
Antenna
Built-in?2.4G antenna
ZigBee
Wireless standard
IEEE802.15.4
Wireless output power
4.5dBm?(max)
Wireless receiving sensitivity
-97dBm?(min)
Wireless coverage area
30m
5.3 Software Specification
Item
Software Specifications
Detection function
Monitor the PM2.5 values in real time and display them on the APP
Automatic?detection every ten minutes
Firmware upgrade
Upgrade firmware via the serial port
?
6. Functions
Features
l?Principle of testing: optical refraction for detecting the number of dust particles in the air
l?Air pollution index: 5 –?4,000; Resolution?0.001mg/m3
l?LED display, button, reset button, battery
l?Display PM2.5 value in real time
7. Product Performance
Item
Performance
ZigBee Performance Index
Comply with ETSI300 328 and EN301 489
Reliability
High temperature?test

Low temperature?test

Vibration test

Drop test

Aging test

Certification
CCC, CE
8. Product Requirements
8.1 User Interface Requirement
See the user interface of the Sparx Smart application.
8.2 Working Environment
| | |
| --- | --- |
| Working Environment | Requirement |
| Storage Temperature | -30℃~+60℃ |
| Operating Temperature | -10℃~+55℃ |
| Humidity | 0~90%, Non-Condensing |