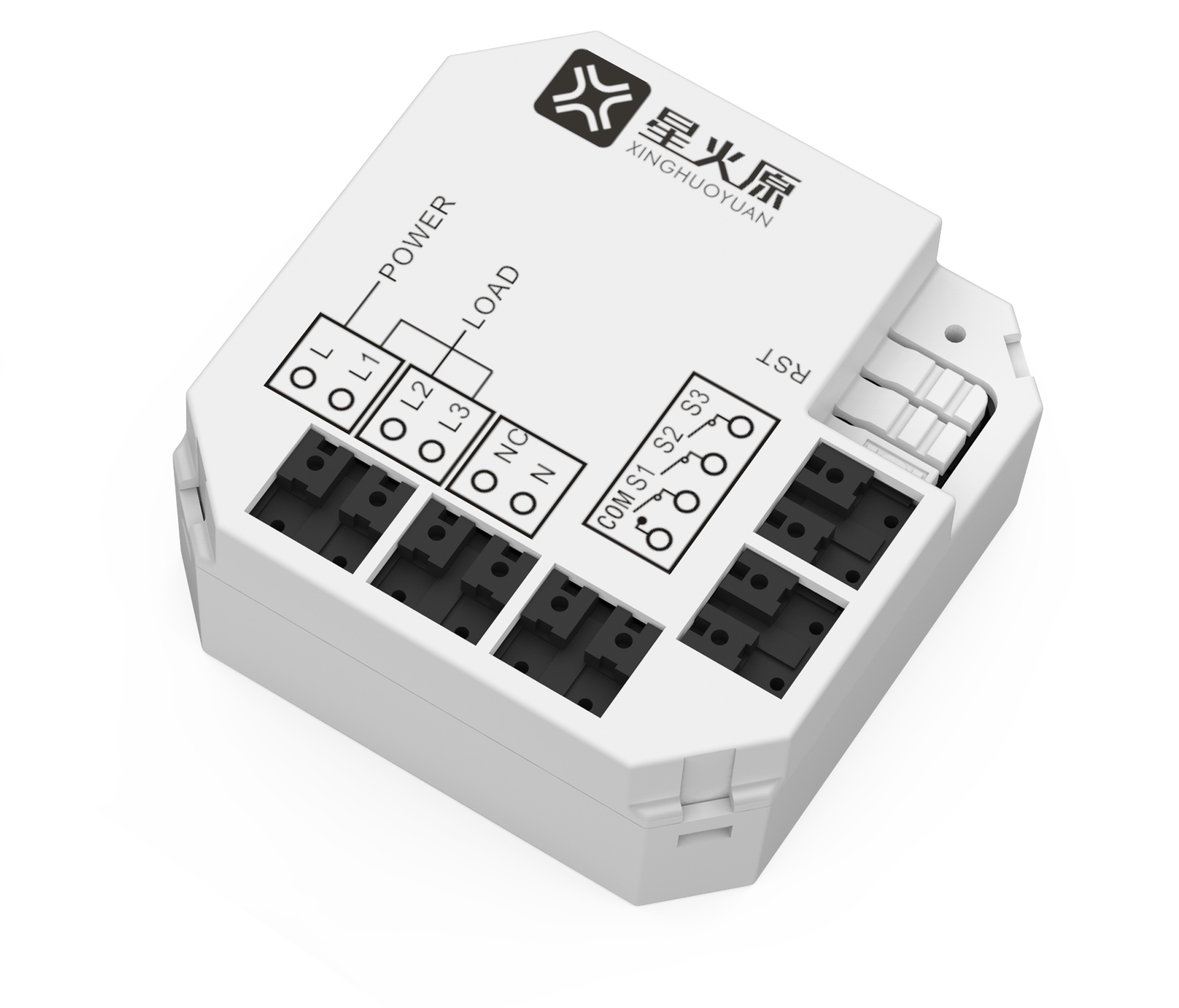 Product introduction
Introduction
The smart relay module?is a smart device with a built-in ZigBee module. It works with push button switch plate to replace the mechanical switch plate in home and office. As a ZigBee end device, it can be remotely controlled?via Sparx Smart App after being added in the ZigBee network. End users can install a Sparx?Smart App?on their iOS or Android phones and monitor their spaces via 2G/3G/4G/Wi-Fi.
Features
Support standard protocol IEEE802.15.4;

Support push button switch plate

SparxSmart App can be installed on a phone or a tablet to control the lights remotely.
Application
The switch replay module?can be applied at home?and?office for the purposes of lighting control.
Product Standard
Comply with the standard system of smart home.
Certification
Comply?with 3C/FCC/CE/RoHS certification.
Product Parameters
| | |
| --- | --- |
| Appearance | Parameters |
| Size | 48?x 48?x 20?mm |
| Color | Black |
| Weight | 160 g |
Item
Hardware Specifications

Chipset

CC2530F256

Button

-?Press the push button switch for 12 times in 6 seconds to add the device;- Press the switch for 6 seconds to add the device;

Indicator

The blue indicator blinks 6 times when the module is being added in the system.

Terminals

AC100~240V, L input

AC100~240V, N shared terminal

AC100~240V, L1 output

AC100~240V, L2 output

AC100~240V, L3 output

Rated power

150W (Max)

Life Span

100,000 times

Antenna

External?2.4G antenna

ZigBee

Wireless standard

IEEE802.15.4

Wireless output power

4.5dBm?(max)

Wireless receiving sensitivity

-97dBm?(min)

Wireless coverage area

30m
Item
Software Specifications

Lighting control

Control lights though physical?buttons

Control lights through the application

Firmware upgrade

Upgrade firmware via the serial port
Functions
Features
l?Control lights though physical?switch buttons
l?Control lights through the application?on iOS or Android phones
?
Product Performance
Item
Performance

ZigBee Performance Index

Comply with ETSI300 328 and EN301 489

Reliability

High temperature?testLow temperature?testVibration test

Drop test

Aging test

Certification

CCC, CE
?
Product Requirements

User Interface Requirement
See the user interface of the Sparx Smart application.
?
| | |
| --- | --- |
| Working Environment | Requirement |
| Storage Temperature | -20℃~+60℃ |
| Operating Temperature | -10℃~+50℃ |
| Humidity | 0~90%, Non-Condensing |